The Golf Bag Skate was designed with YOU in mind!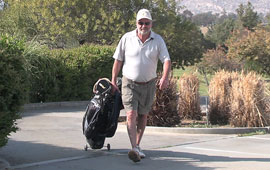 Many people headed to the golf course cannot carry their clubs from the car to the clubhouse. Our unique, USA made, convenient Golf Bag Skate allows for quick installation, taking mere seconds and can be stored with ease!
Eliminate back problems and exhaustion by rolling your bag quickly to your golf cart, folding the durable wheels up and place as you normally would inside your cart.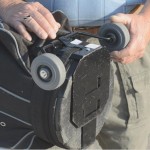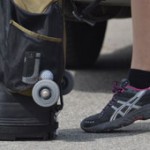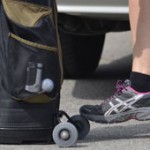 The Golf Bag Skate is designed for those awkward golf cart bags, childrens bags and can even be used with carry bags. Its patented design allows quick adjustment for any type golf bag.
Golf Bag Skate fits golf cart bags with a bottom base of 9 to 10.5 inches. It will fit larger golf bags with longer straps and slide. If your golf bag's base is larger than 10.5 inches, order the larger size here.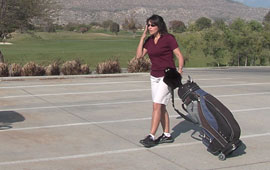 Look forward again to a day filled with fun!
Our Goal… Is to provide you with a reliable, easy to use, back saving device that will improve your quality of like and bring back the enjoyment and relaxation of your golf game! Roll your heavy bag with ease!